Key Measurements to Help You Design a Powder Room
At one time a luxury found only in grand homes, the powder room has become a staple in new American residences. When planned for new construction, they are often given ample space. But when you want to fit one in during a remodel or into an addition, you may have constraints. No matter what type of home you have, it helps to understand how much space is needed for these little — or not-so-little — very special rooms.
Powder Room Doors
You can choose from a variety of types and sizes for the powder room door. It can be styled like the rest of your home's decor or unique. Common widths are 28, 30, or 32 inches (71, 76 or 81 centimeters). Wheelchair-accessible doorways ideally should be at least 36 in. (91 cm) wide. You can go as narrow as 24 in. (61 cm) if absolutely necessary, but anything less than that will likely be uncomfortable, and the door would probably have to be custom fabricated.
Standard door heights are 80 or 96 in. (203 or 244 cm), and you will probably coordinate the height with that of the other doors in your house. Pocket doors and sliding types provide more choices. Double doors can work nicely if detailed well.
Toilets
Toilets also come in a variety of configurations, such as two pieces or one piece. There also are types that can be wall mounted. If you are selecting a toilet, get the manufacturer's specifications from the website or from a plumbing supplier before making a decision about what type will fit and operate properly in your home.
A powder room may need to fit in a narrow space, under stairs or both. The trick is to place the toilet with its back to the descending ceiling. You will normally bend down to use this area, so you can cheat some space out of it if you are particularly squeezed. However, don't place it in any space less than about 5 feet (152cm) in height. You might be able to go a few more inches below that, depending on your circumstances, but once the ceiling goes below 4 ft., its best use is for storage accessed from an appropriate opening.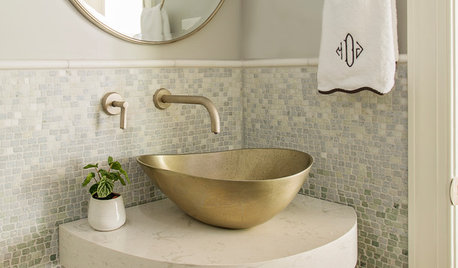 Before and After: Dramatic Kitchen Transformations
Many people want to change their kitchen, whether because it functions poorly, their taste has evolved or they've purchased a home in someone else's style. If you're looking for inspiration, check out these kitchen transformations. Some of the kitchens go from wood cabinets to white, others have updated wood cabinets, and still others combine styles for a two-tone or eclectic look. Perhaps you'll find your kitchen soul mate here
The homeowners raised the roof 18 inches, allowing for bigger windows and a proper view. The remodel also exposed some of the original beams, and added new ones to highlight the space's historical character.
The renovation was pretty complete: cabinetry, counters, appliances, windows. The result is a streamlined look, as well as a space that the owners find easy to clean.
The Smiths took out the wall separating the dining room from the kitchen, creating a much larger kitchen. They swapped the old dark wood cabinetry for bright new white cabinets, wooden shelves and a tile backsplash.
The couple installed white cabinets and a farmhouse sink. Not installing upper cabinets helps keep the space feeling more open. Though it isn't visible, the biggest cost during the renovation was plumbing; the owners installed new water and sewer lines, a new water heater and new drain valves.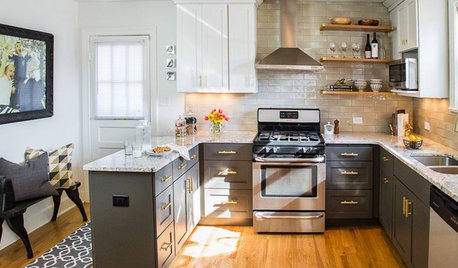 How Much It Costs to Work With a Bathroom Designer
If you're planning a bathroom remodel, hiring a professional bathroom designer could be well worth the expense. These specialized professionals have creativity and technical knowledge that can make your new bathroom more beautiful, functional and safe. But how much does it cost to hire one?
What Do Bathroom Designers Do?
Bathroom designers can transform the spark of a remodeling idea into a beautifully refreshed bathroom. They:
Create design concepts. A good bathroom designer will ask questions to find out what isn't working about your bathroom now — whether it functions poorly, has unappealing style or lacks space. Your designer will want to know who uses the bathroom and how often. He or she may also ask how long you plan to stay in your home and whether you'd like your redesign to include features that support aging in place. "If you're planning to retire in this home, maybe we'll look at anti-slip porcelain tile options and opt for a linear drain without shower glass so that one could wheel into the shower should there ever be a need,"
Create design plans. Some bathroom designers plan every detail of the room, from layout changes down to the precise pattern of tile for a shower niche. Others design or select only cabinets and hardware. Either way, bathroom designers create drawings and 3D renderings that offer a realistic preview of how your new bathroom will look. And good bathroom designers can help you prioritize your wish list. "A lot of times we're working with a limited amount of space, so our clients have to decide what is most important to them — a larger vanity or a larger shower? A walk-in shower or a large tub?"
Confirm a realistic budget. Bathroom designers know current costs for products and materials as well as for making layout changes. Therefore it's a good idea to share your budget with your bathroom designer at the outset — that way they can help you understand how far it will go. Many homeowners are surprised at the price tag for a bathroom remodel, but when you think about all the components going into a relatively small space, the relatively high price per square foot for bathroom remodels makes more sense. "It is the most complex room in the house, with complex plumbing along with electrical and space constraints,
Select and design products, finishes and materials. Depending on their business models, bathroom designers may recommend cabinet door styles or countertop materials, pick out the fixtures for the sink and shower and talk you through the merits of keeping the tub or going with a shower alone. They also can purchase products and materials that are available only to the trade (not sold directly to homeowners)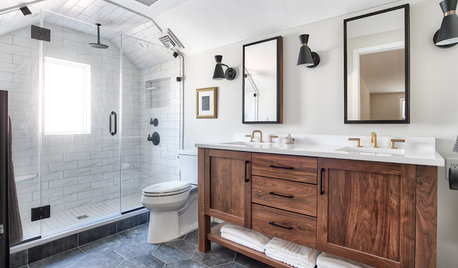 What It's Really Like to Live Through a Remodel
If you're thinking about remodeling or are about to break ground on your first renovation, odds are you probably know a bit about how the project is going to go. After all, you've watched a few TV shows, your cousin's husband is a general contractor and the guy you sit close to at work tells you every detail of how his wet bar is coming together. So you pretty much know all there is to know, right? Not so fast.
As much as you may be able to glean from friends and family, articles and TV, there's no experience quite like personally getting down into the dirt (more on this later) of a remodel. And what you don't often hear about are the harsh realities of wading through such a detailed, often stressful project.
We've written before about how remodeling a home is the ultimate litmus test for your relationship. And that's why I think understanding a few of the common negative things that happen during remodel is a vital component of being prepared.
It Will Upset Your Daily Schedule
Say, for example, every day before you leave for work you like to brew a cup of coffee or tea, settle in with your tablet at your breakfast nook and prepare for the day by going through your emails.
Now picture this exact routine while your kitchen and breakfast nook is under construction. The peace and tranquility (and cleanliness!) of your morning retreat is no more.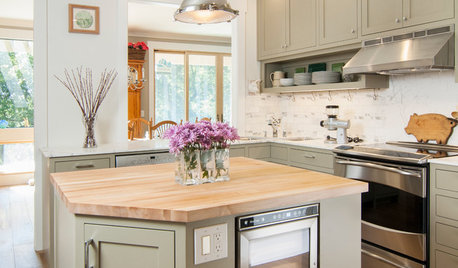 The Essentials: Key Measurements to Help You Design Your Home
You know what you want in your new kitchen, bath or bedroom — but will it fit in your space? Architect helps you answer that question with his Key Measurements series, which takes the guesswork out of room planning and design. In stories covering each room of the house, he details the standard sizes of furnishings, appliances and room features and the square footage in which they need to be placed. And he suggests ideal room layouts and dimensions for different architectural styles.
The Kitchen
A well-designed kitchen makes meal preparation and dining more pleasurable. offers measurements and advice for storage areas, prep and cleanup spots, and cooking and baking centers.
Kitchen measurement tip: To get your kitchen cooking, store pots, pans and baking sheets around the burners and oven. You can put your toaster and coffeemaker here as well to keep prep areas free. Seasonings, breadboards and potholders should go in nearby drawers and cupboards. Allow 21 to 36 inches (53 to 92 centimeters) of counter space on either side of your cooktop, and locate a wall oven next to an open countertop so you have a place where you can set down hot food.
The Bathroom
Whether you install a single, double, pedestal, floating or braced sink will depend as much on your available space as on your needs and desires. And that's just one element of the bathroom. This story examines your options for sinks, toilets, tubs, showers and towel bars.
Bathroom measurement tip: Want to extend your countertop over the toilet tank, as seen here? Counter heights vary from 32 to 36 inches (81 to 91 centimeters), so you'll need to consider whether your toilet will fit comfortably underneath. You also must be able to lift the lid without obstruction.