What You Need To Know Before You Hire a Videographer For Your Business
We live in a video world and trying to market without video is becoming harder and harder! If you're considering integrating video into your marketing program, make sure you engage the right videographer for the job. We've put together this list of important questions to ask the videographer or agency before you hire them to produce anything for your business.
1. What Is Your Process?
Don't Judge Your Prospective Production Company By Their Sizzle Reel! The Final Product Might Look And Sound Amazing But It Could Have Been Quite The Arduous Journey To Get There. So Ask About Their Process.
Some Process Related Questions Can Include:
Do You Break Up The Project In Phases – E.G. Pre, Capture, Post?
How Do You Manage Time And Budget?
How Many Revisions Do I Get?
Will I Be Responsible For Any Part Of The Production Process?
You Should Be Aware Of What To Expect Throughout The Entire Process. If They Can't Give A Clear, Concise Answer To Any Or All Of These Questions, They May Be A Disaster Process-Wise. We Suggest You Keep Searching.
2. What Do You Charge And What Parts Of The Process Are Included In This Price?
It's Important To Understand How The Service Being Offered Is Priced. If You Get A Flat Price But No Details On What Parts Of The Process The Price Covers, You Should Be Concerned. Great Production Companies Charge Their Worth To The Clients But They Also Take The Time To Explain How Things Are Priced, What Parts Of The Production Process Are Included (And What Aren't— E.G. Actors, Props, Location Fees, Permits, Etc.), And What You Can Expect. A Solid Company's Pricing Should Show Flexibility Without The Randomness. I.E. The Pricing Model Offered To You Should Make Complete Sense.
If It Doesn't, You May Need To Ask More Questions Or Keep Searching.
3. What Other Projects Have You Done Like The One I Am Proposing? Can You Show Me Examples?
You Should Be Going Into This Process With Very Specific Goals — That Is, You Have A Marketing Purpose — And That Purpose Requires A Visualization. The Production Company Should Be Clear On What You're Trying To Accomplish, And Be Ready To Give You Exactly What You Need.
So, If You're Looking To Create A series of expert interviews to help support the need for your product in the marketplace, you shouldn't be wooed by slick drone videos. Make sure they can show you example of successful projects similar to the one you're about to embark on.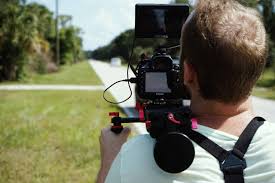 Interview Questions for Videographers:
1. How do you plan for a shoot?
Candidates should describe their extensive planning ahead of time. They need to know what the shot entails, how to shoot it and what equipment is needed to execute it. Look for a methodical approach to planning and organization.
2. A Director is not happy with your ideas. How do you handle the situation?
Candidates should acknowledge that the vision for what a film should look like is not their own, but rather the vision of the Director. They should try and sell the Director on their own vision and expertise but should desist when instructed to.
3. What, in your opinion, are the most important qualities in a Videographer?
Candidates should list good communication skills and the ability to execute on a creative vision as key qualities in a Videographer.
4. Describe how you would ensure that production is on schedule. What steps would you take?
Candidates should describe how they would ensure that daily or weekly objectives are met. Look for a methodical approach to time management.
5. Describe a project you were involved in previously. What were you personally responsible for?
Shows work history and knowledge of the job.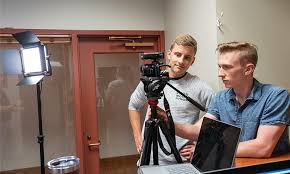 How to Find and Hire Qualified Freelance Videographers
How to evaluate a freelance videographer: Double check the videographer's abilities align with video marketing goal, here are a few questions to ask:
How long have you been producing corporate video?
How do you manage creative collaboration between you and your clients?
Do you have experience working with companies in my industry?
Which visual styles (or types of video) are you most comfortable creating?
Can I see your portfolio?
What is your communication style? How easily can I reach you?
Will you be available to all members of our team? How will we collaborate?
Do you have marketing experience?
How do you plan to bring my vision to life?
When will you be able to provide me a detailed project sheet?
How many revisions do you provide in your price?
Determining your budget with a freelance videographer: Freelancers want to deliver on satisfaction and ensure repeat collaborations. At the same time, their ability to sustain means turning around projects within an agreed to timeframe, giving them the ability to accept work from additional clients.
Consider asking for a quote of cost per minute, which means you'll only pay for the final product. If a timeline falls behind, this is better than hiring a freelancer by the hour. It also doesn't punish the freelancer for being mighty effective. Request proposals from multiple videographers. Another option to control costs is to shoot footage independently, then hire a freelance editor to piece the clips together.
When to use a freelance videographer: A consistent, professional freelancer will be able to offer high-quality content as they learn more about the brand. Expertise in a corporate business area will allow the freelance videographer to get up and running quickly.
How to work with a freelance videographer: Working with a professional freelancer will require little oversight, but communication is still key. From the onset, be as precise as possible so the potential videographer can better estimate the time necessary and cost. Come to the initial meeting prepared, draft a rough storyboard and script. Throughout exploratory meetings around video creation, provide details around expectations.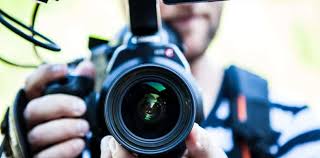 Ways To Find Skilled Videographers In Your City
If you have no idea how to find a good video person, relax because we're providing you with seven different ways to find videographers.
There are so many options that you can afford to be picky.
1. Personal Recommendations
Try asking around your professional and personal network to kick off your search.
Whether that means asking a friend that runs their own business or a neighbor you know has gotten video work done before, people know people you don't. And you'd be foolish to waste hours going at this alone.
The people closest to you will steer you in the right direction and you'll give them an opportunity to look like a hero to a videographer who is dying for more opportunity.
Your network also wants you to feel their word has value so they will make sure you get someone that will produce professional work. This saves you some due diligence when the referral comes from a trusted friend (while we recommend you should still do some vetting).
2. Google Search
Another way to find a videographer is to do a simple Google search.
Just like your business, videographers need to market themselves. They utilize SEO to improve their online presence, much like your business should.
When you Google "video production company" or "good videographers" consider first looking at the top three organic results. These videographers or video companies are putting in the work to make sure their business will come up on the site.
When you look at their website, first watch their video reel. This is their version of an elevator pitch. They have a minute to show you some of their best work to get you to use their services.
3. Social Media
Instagram, Facebook, YouTube, and other social media platforms can be killer for finding videographers.
Most businesses that provide a niche product or service will include a hashtag that relate to their business. And this is the case for videographers.
That's why Twitter, Instagram, and Facebook are all great places to search for a videographer. Searching on the latter will probably provide you with better results since they are geared toward photo and video.
4. Paid Ads
This option provides a slightly different approach to finding a videographer.
If you are really struggling to find someone on your own, put your own ad out.
Putting a pay-per-click ad out for a videographer allows individuals and businesses who are skilled with video to come to you.
Lay out all of your criteria for a videographer in your ad so you attract people that will work well with your brand and don't waste time with unqualified applicants.
In your ad, include the:
Values of your company
Products or services you offer
Aesthetic you're looking for
Budget allocated for the project
General vision for the video
Questions to Ask A Video Production Partner
About the company:
1. How long have they been in business?
2. How many explainer videos have they produced?
3. What is your team structure for this project or who else will be involved?
4. What is their company culture like and does it mesh with yours?
Logistics:
5. When can they start the project?
In-demand video producers may not be able to start on your project right away. Instead, you might finalize a contract to start your video project starting on a future date. Don't assume that the video production companies that you are discussing your project with can start right away. (you know what they say about assuming something!)
Pro-tip: make sure you get everything in writing! Any detail that is discussed in person or over the phone about your video project should be followed up with, in a written manner. This includes your project's start date, pricing, included bits of production, and the estimated timeline.
6. What timeline do they propose for the project?
The typical animated or live-action explainer video will take 6 – 8 weeks to produce and follows this general timeline. If your project needs to be produced in a shorter time period, have your potential video production team produce a revised timeline for you. Once you start your video project, make sure you keep track of your timeline so that you meet your video release date!
7. What potential hold-ups could there be?
The response that your potential video partner gives you will vary depending on whether your project is animated or live-action. In live-action projects, the list can be lengthy, with hold-ups including location permits, weather, or talent hiccups to name just a few potential problems. If your video partner isn't able to look at the project and name a few potential hold-ups (including delayed client feedback ), they're probably not going to be the right professional fit for your project.