UPHOLSTERY CLEANING
From heavily soiled to light cleaning, our 12 step cleaning process is designed to restore your furniture as close to its original condition as possible. We can clean all types of upholstery, even the most delicate of fabrics.
HERE ARE THE STEPS WE TAKE
Step 1: Pre-Inspection
Our service technician will inspect the upholstery, noting fabric type and soiling conditions. He will also advise you of any possible permanent staining.
Step 2: Area Preparation
We will prepare the area where the upholstery will be cleaned to protect your surrounding floors and furnishings. In some cases, we can come to your home and pick up your upholstery and bring it into our plant for cleaning
Step 3: Pre-Vacuum
Your upholstery will be thoroughly vacuumed to remove dry soil. Removing dry soil is one of the most important steps in cleaning.
Step 4: Pre-Treat
The fabric is pretreated with special cleaning compounds specially designed for your particular fabric & soil condition. This loosens up the soil to make rinsing more effective.
Step 5: Pre-Spot
Any potentially difficult spots will be pretreated with special solutions to increase chances of removal.
Step 6: Pre-Groom
The fabric will then be gently groomed with a white towel or soft upholstery brushes to loosen the soil.
Step 7: Soil Extraction & Rinse
The soil is then exacted from the fabric with a gentle controlled rinse.
Step 8: Neutralize
The fabric will be PH balanced to maintain its soft fresh feel.
Step 9: Post-Spot Treatment
If any spots are not removed during the cleaning process, specialty-spotting techniques are employed, however potential permanent stains as identified by the technician may or may not be removed.
Step 10: Post Groom
The upholstery will then be prepared for drying with a gentle combing of the fabric.
Step 11: Speed Dry
High velocity air movers are set in place to speed dry the upholstery.
Step 12: Post Inspection
Our technician will review the cleaning results to ensure expectations have been met or exceeded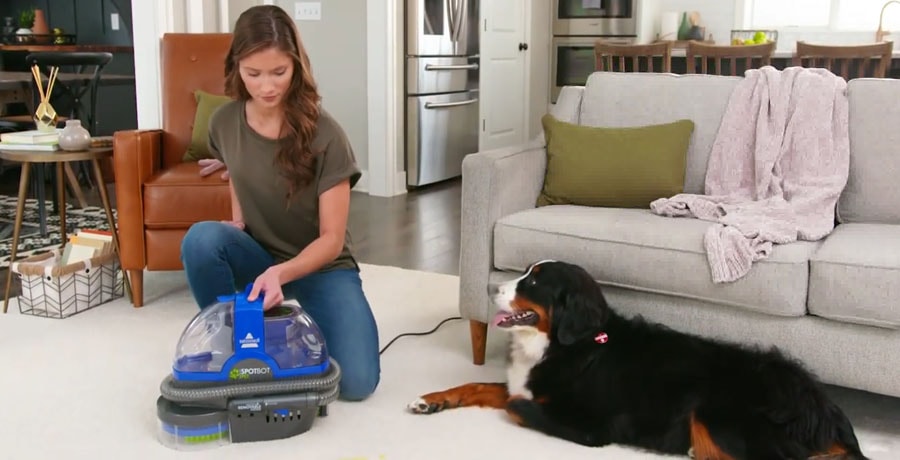 Best upholstery cleaners currently on the market.
There's one thing dog owners, parents, and clumsy people agree on: accidents can ruin furniture. Searching for the best upholstery cleaners should be your priority when faced with persistent food spills or oily stains on your fabric surfaces that vacuuming and other techniques simply can't remove
Of course, regular vacuuming is an important aspect of removing dust and dirt, but sometimes you just need something more powerful. Given that some pieces of furniture are especially vulnerable to staining, an upholstery cleaner quickly becomes an essential tool.
It's not just about having a pretty and clean couch. Woven fabrics can also harbor bacteria, and now more than ever you need to keep your family safe by regularly cleaning certain items. There is a direct health benefit to choosing the right upholstery cleaners, especially if anyone in your family has a medical condition such as asthma. The Center for Disease Control's article on common asthma triggers list many factors you can influence to improve their health, all by simply cleaning your carpets and upholstery routinely.
To the average person, there are two types of fabrics: those that go in the washing machines and those that don't. As much as we would like them to be, carpets and upholstery are not as easily and readily cleaned as a t-shirt. We often grow attached to our furniture and hate to see them deteriorated, stained, or even damaged
Of course, we can rent expensive specialized cleaners or hire pricey professionals to resolve our issues, but that is simply not affordable or feasible for most people. For minor incidents and stains, you can always manually scrub the stain using specialized upholstery and carpet cleaning solutions.
How Much Does It Cost to Clean Furniture Upholstery?
Upholstered furniture is both stylish and functional, but it can be more difficult to clean than other types of furniture. In this cost guide, we'll look at the cost of cleaning various types of upholstered furniture. On average, it costs $50-$80 to clean one piece of upholstered furniture. Although there are options and products available to clean the furniture yourself, some items (such as older or more delicate pieces) should be cleaned by professionals. The biggest factor in the cost of cleaning upholstery is the size of the piece of furniture, since pieces that are larger and more elaborate cost more money to clean.
Type of Furniture
Sofa: $80-$120 (larger sofas are on the higher end of the price range)
Loveseat: $50-$60 (add $20-$30 for a recliner)
Armchair: $30-$40
Dining chair: $35-$45
Recliner: $40-$50
Ottoman: $30-$50
Type of Material
Most furniture pieces come with a coded tag with cleaning instructions. These labels will help your cleaning service know how to best clean your furniture.
Code W is for man-made fabrics, including nylon, polyester, and acetate, and can be cleaned with water-based cleaners. In general, these materials fall at the lower end of the price range for the furniture type.
Code S is for organic fabrics, including cotton, rayon, silk, wool, denim, and velour that can be cleaned with solvent-based cleaners. In general, these items fall in the middle or the higher end of the price range because the cleaners are more expensive.
Code X is for fabrics that must be professionally cleaned.
Code W/S is for pieces that have a mixture of organic and manmade fabric and can be cleaned with either type of cleaner.
Type of Cleaning
Steam cleaning: the traditional steam cleaning method soaks the upholstery with water and a cleaning agent, scrubs out the dirt and stains, and then lets the furniture air dry or uses a vacuum to remove the excess water.
Chemical cleaning: this method involves less water and a more concentrated and pressurized chemical treatment that results in faster dry times. However, it can be difficult to use the chemical cleaning process on older or bulkier pieces of furniture.
Steam and chemical cleaning generally cost the same amount, which typically falls into the price ranges above depending on the type of furniture.
Stain removal: furniture with heavy staining, such as from pets or children, will require a pre-treatment service. This cost depends on the size and intensity of the stain, but can typically add $25-$75 to the total cleaning cost per item.
Enhancement and Improvement Costs
Many cleaners and furniture stores offer a protective sealant to prevent future stains. This service averages $75-$150, depending on the size of the furniture. DIY products, such as ScotchGuard, average $10-$20.
Furniture pieces that are older or more delicate may require more cleaning work and time, which can increase the price by up to 25%.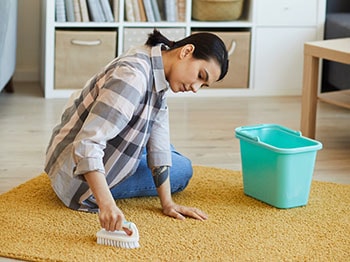 How to Clean Upholstered Furniture
Oftentimes, the cozier the living room furniture, the harder it is to keep clean. But if you come equipped with the right tools and know-how, deep cleaning your upholstered furniture doesn't have to be all that difficult. Your furniture is likely to be upholstered with a either natural fabric like linen or cotton, or a synthetic fabric such as polyester, velvet, microfiber, or rayon. In general, synthetic fabrics tend to be more durable than natural ones.
Whether spot cleaning or using a steam cleaner with an upholstery attachment, your choice of cleaning products is important to avoid further staining or degrading your type of fabric. Online cleaning tips often suggest common pantry staples like mild dish soap or baking soda.
Dish soap might not work hard enough to restore your upholstery to its original color. Baking soda's fine particles can clog the pores of your vacuum's bag or HEPA filter, which can drastically reduce suction power. The dust can also potentially seep through your vacuum's filtration system and get sucked into the motor. Lastly, the particles can remain in the fabric and act as an abrasive, weakening fibers over time.
Always check the furniture manufacturer's cleaning instructions before cleaning any upholstery. Failing to do so could void the warranty, or worse yet, ruin your furniture. There should be a cleaning label attached featuring one of four letters to indicate its care needs. Here's what each means:
W — You can use water to clean this material.
S — Do not use water. Only a solvent-based cleaner is recommended.
WS — You can use water or a solvent-based cleaner to clean.
X — Vacuum only.
It's best to vacuum your upholstered furniture weekly. Upholstery should be vacuumed frequently to prevent dust and crumbs from settling into the body of the furniture. Otherwise, removing stains and general cleaning can be done quarterly or on an as-needed basis. As with any type of stain, it's best to soak up and remove a troublesome spot as soon as it happens.
How Much Does Furniture Upholstery Cleaning Cost?
How often you clean your furniture depends on whether it's in a high-traffic area, such as a family room, or if it's rarely used. "If it's a chair you sit in every day, you're going to want to clean it at least once a year,"
Furniture upholstery is more delicate than carpet, and colors can fade easily if you don't use the right upholstery cleaner. In most cases Depending on the type of fabric, most professional upholstery cleaners will either steam-clean furniture upholstery or use a dry-cleaning solvent.
The cost of cleaning depends on the size of the furniture, the kind of fabric and the condition of the furniture. Typically, the cost to clean an armchair or recliner ranges from $30 to $50
Does pre-treating your furniture pay off?
Is it worth it to get your furniture pre-treated to prevent stains? When you're buying new furniture, you can pay extra — $60 to $150 at most retailers, depending on the size of the sofa, to get your furniture pre-treated with a fabric protector. If you go the DIY route, you can expect to pay between $6 and $13 per can for a stain protector