How to Deep Clean Your Washing Machine
In today's blog post, I'll be sharing everything you need to know in order to clean your washing machine! I've included methods for cleaning both front-loading and top-loading machines in this post, so no matter what type of machine you have, you'll know exactly how to clean it by the end of this post!
How It Works
The key ingredients in both cleaning methods are bleach and vinegar (read more about the do's and don'ts of cleaning with vinegar). Bleach kills bacteria, mold, and mildew, while white vinegar dissolves soap scum and tough mineral deposits. You will also need a measuring cup, sponge, bucket, and cloth. After using them in the steps outlined below, your washing machine will look newer, smell better, and most importantly, clean your clothes more effectively.
How To Clean Your Front-Loading Washing Machine
Step 1 – Vinegar Wash
Add 2 cups of white vinegar to your machine's detergent tray or pour it directly into the wash drum. Run a wash cycle using the hottest water setting to get rid of mold and mildew and to dissolve mineral deposits.
Step 2 – Bleach Wash
Once the first wash cycle is done, add 2 cups of bleach to your machine's detergent tray or pour it directly into the wash drum. Run another hot water wash cycle to remove stains and eliminate germs that may be lurking in the wash tub.
(Note: If you prefer not to use bleach, you can use 2 cups of hydrogen peroxide for this step instead.)
Step 3 – Rinse Cycle
After the second wash cycle is complete, run an additional rinse cycle to flush out any remaining grime or residue.
Step 4 – Detergent Tray
Once the rinse cycle is done, remove the bleach dispenser, fabric softener dispenser, and any other removable parts from your washer's detergent tray.
Fill a bucket with warm, soapy water, and drop the detergent tray pieces into the bucket and let them soak for a few minutes. Clean each piece thoroughly with a sponge or cleaning rag, dry them, then return them to their original position in your detergent tray.
Step 5 – Finishing Touches
The last step involves a few finishing touches, including cleaning the rubber seal around the door and cleaning the exterior of the machine.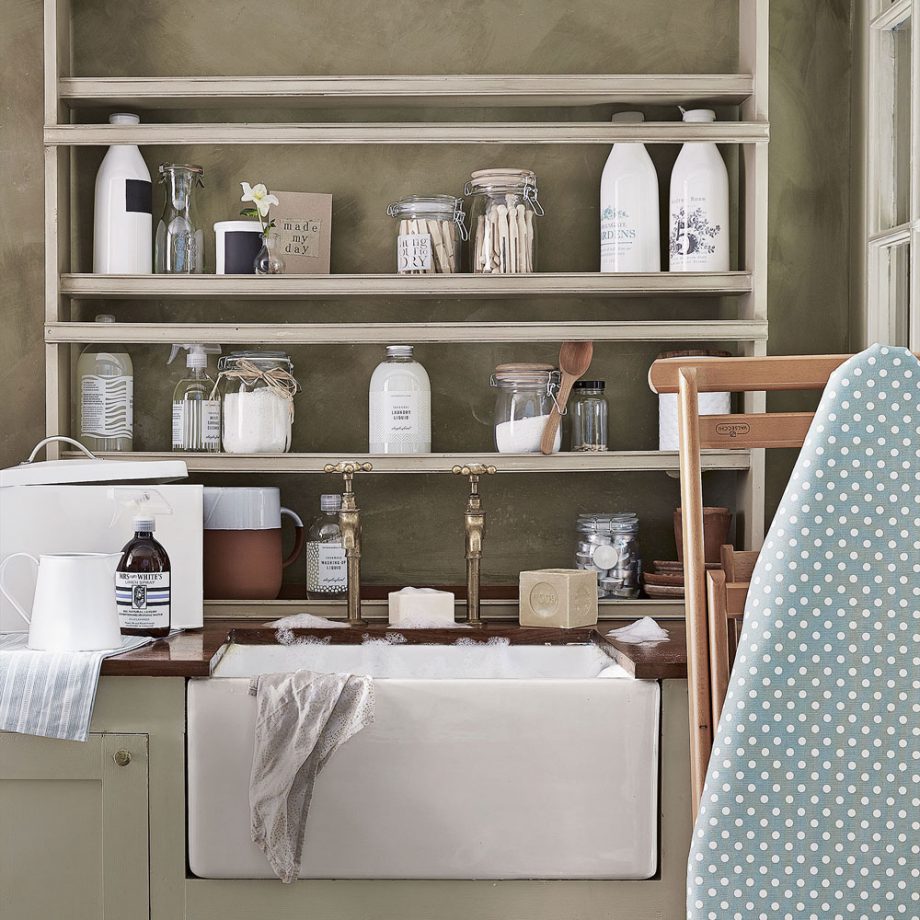 Best Natural Cleaners to Use
So what cleaners are we using?
Washing soda is fabulous for cleaning different surfaces around the house. This amplified version of baking soda helps to break down hard water deposits, dissolve grease and deodorize. I use it in my laundry detergent and homemade dish soap, but it's also great for a deep clean on the washing machine.
Vinegar is an acid that helps tame mineral deposits, grease, mold, and mildew. It can be regularly used on the rinse cycle as a fabric softener, but it's also effective at cleaning out the machine.
Borax is a naturally occurring mineral that is known to kill a wide variety of mold and soften water. It's surprisingly controversial, but after doing the research I feel safe using it as a cleaner, though you won't see me adding it to lotion or consuming it. I've covered the safety of borax here, but for those who still aren't keen on the idea, it can be replaced with a natural oxygen bleach or omitted.
Essential oils have a wide range of anti-microbial properties, depending on which ones are used. Tea tree, or melaleuca, is a potent anti-fungal to help with mold growth. Thieves blend helps to fight bacteria and viruses. These are optional, but really help to boost the disinfecting power. I buy most of mine here (use the code WellnessMama for 10% off).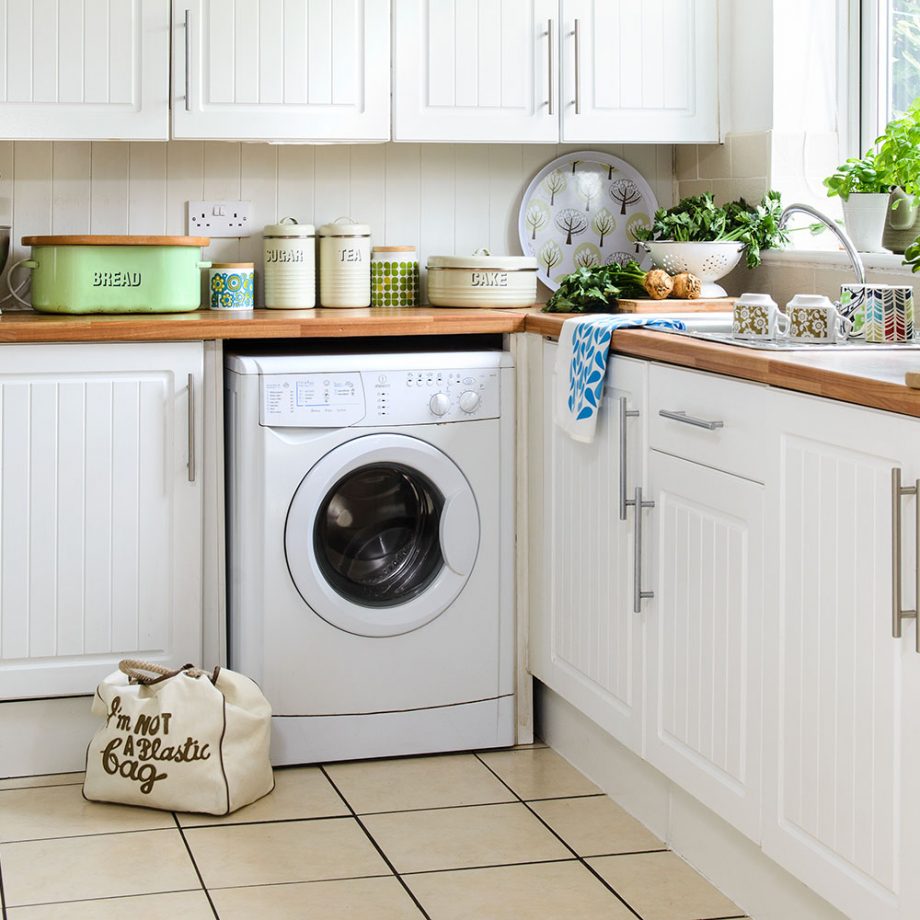 Clean the filter
clean your washing machine
The debris filter is there to protect your washing machine's pump by stopping lint, stray tissues, coins and general dirt in its tracks. That means that, like the detergent drawer, it's a place where germs collect. It is also warm and humid so provides an ideal breeding ground for dodgy smells to infiltrate the machine… and your laundry.
The solution? Empty it regularly to remove the fluff and dirt that has gathered inside. The washing machine filter is usually located along the lower edge of the machine, behind a hinged cover. Check your user manual if unsure. Carefully free the emergency drain tube and place a bowl or pan on the floor below it.
Unplug and allow any trapped water to drain off. Replace the plug, remove the bowl and lay a towel on the floor. Carefully unscrew or release the filter cover. Any trapped debris should run out with the trapped water, but check inside the cavity to be sure. Wipe around with a cloth, clean any components and replace the cover. Check again that you have replaced the cover properly to prevent any accidental leaks.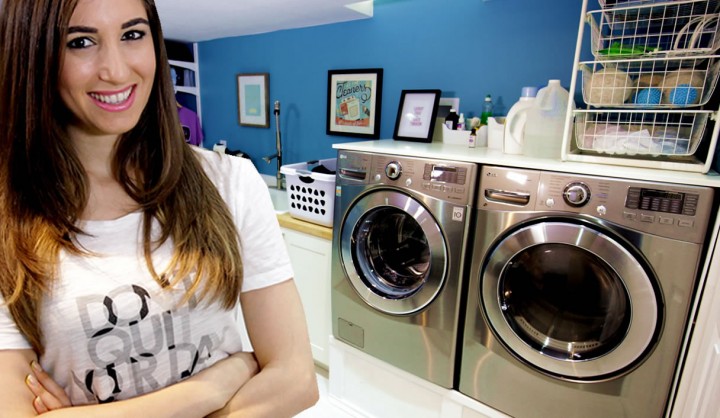 Clean Machine Exterior, Door, and Dispensing Trays
Next, we'll tackle the exterior parts of the machine including your detergent dispensers, all cracks and crevices, door frame and all exterior surfaces. First, clean the inside and outside of the door with vinegar and water using a microfiber cloth. You might really need to scrub well! Secondly, use an all-purpose cleaner and pre-soak really dirty areas around the washer. Finally, scrub grimy areas where necessary with a cleaning toothbrush (and baking soda, if needed) and wipe everything clean with a cotton cloth. You can also soak your dispensing trays and then wipe clean. They can get really grotty and moldy.
Extra Care Tips
Always leave the door open when you are done with your washing – always. This lets the remaining moisture evaporate and avoids mold and mildew growth. If smelly laundry is a problem, this will solve it.
Remove your clothes from the washing machine ASAP for the same reason as the last point.
And try to avoid store-bought fabric softeners. They leave a residue, not only on your clothes but also in your washing machine. As we now know this causes odors. We have some easy homemade fabric softener alternatives available.
Finally, use the correct amount of detergent, always. Too much detergent will cling to the walls of your machine and lead to odors and dull clothes. These detergents are designed to be used in small quantities, especially in HE machines.
How to Clean a Washer's Components
Cleaning the Front-Loader Washing Machine Gasket
Pack the rubber folds and cavities of the gasket with paper towels soaked in hydrogen peroxide. Leave it to soak for a few hours before wiping down clean and dry. You may need to use a soft brush to gently scrub it.
To prevent it from getting moldy by using an old towel or paper towel to dry around the rubber gasket/door seal after each wash. You could also add some vinegar or hydrogen peroxide to the towel as you wipe it down to really scare away the mold.
Cleaning a Top-Loading Washer's Tub Rim
Use a paper towel soaked in hydrogen peroxide or white vinegar to wipe around the opening of the machine. Try to get between the tub rim and top edges, and all the areas that the water can get to.
Cleaning a Washing Machine Dispenser
Remove the dispensers from the machine. Fill your tub up with hot water and half a cup of vinegar and scrub away. Don't forget to also clean inside the area where the dispenser sits as this can become moldy too. If the dispenser can't be removed, check your machine's manual to see what you can do. If it can't be removed, use a pipe cleaner or an old toothbrush to get into the crevices.