Things That Make A Great Kitchen Faucet
It's one of the most important components of any kitchen. Apart from improving the quality of your kitchen, a great faucet will also make your
Kitchen Function Well and Look Great
Purchasing a new kitchen faucet is one of the most interesting upgrades you can make. Whether you just want to personalize your kitchen or you just want to replace a damaged one, there is something out there for everyone. However, with so many brands and models on the market, choosing the best kitchen faucet can be overwhelming and sometimes confusing. So, what makes a kitchen faucet great? Here are some tips to consider.
Has a Brand
When it comes to choosing a faucet for your kitchen, it's always advisable to choose a product with a strong brand name. Why should you even consider a non-branded product?
Some people assume that they will save money by avoiding the top brands. However, that is not always the situation. In fact, you might end up spending more money than you had initially saved.
Most of the non-branded faucets tend to have a short life. They start showing signs of wear and tear within a few months.
Low-quality faucets leak, drip, break and waste your water, which will eventually lead to higher utility bills. Therefore, you should not that buying a branded product doesn't mean you are paying for the name.
Aligns with Your Kitchen's Décor
In the modern kitchen, a faucet plays a vital role towards its looks and appeal. As much as reliability and functionality are the main priorities, looks are equally important. After all, all the major brands are producing reliable and functional faucets. What sets apart a great kitchen faucet brand from a common one is the issue of design. Respectable brands have realized that the modern consumer is paying more attention to design when choosing a kitchen faucet. Therefore, if you are choosing one for your kitchen, then you should also consider how it will align with the rest of the components.
Easy to Install and Operate
Installing a kitchen faucet should not consume more than 10 minutes for someone with basic DIY skills. Once you dismantle the old one, you just get the hoses through the holes drilled in the sink, put the faucet in its position and then fasten it from beneath using the attached screw nuts.
Having completed that phase, you should then proceed to attach the ends of the hose to the cold or warm water supplies. Its handle will adjust temperatures automatically while allowing the stream to flow precisely and steadily. You can even direct the stream in various areas on the kitchen sink.
Should Be Leak-free for Lifetime
Changing gaskets and washers after every few months belongs to the past. Also, the valves used in modern kitchen faucets have significantly evolved.
Most faucets now contain hard ceramics as valves, which are sometimes covered with diamond. With the use of these valves, it's almost impossible for them to wear out as fast as they used to.
Also, they don't leak their entire lifetime. Therefore, if you find yourself constantly changing gaskets and washers, it's time to invest in a quality kitchen faucet, and you will not come across such issues anymore.
Apart from saving you money and time, the best kitchen faucet will also ensure a stream and precise water flow.
Deep Clearance
If you have a low kitchen faucet, you may not be able to wash large pots under it. You will be forced to change its position in the sink severally, to ensure it's evenly washed. While that may not be a big issue, why should you struggle while there are better options on the market? When you are choosing a kitchen faucet, height clearance is one of the biggest considerations to make. To obtain the best value for your money, you can use the largest accessory that you have in your kitchen, which needs to be washed in the sink. You should then use its measurements to determine the height of the faucet's arch.
Easy to Clean
Just like other kitchen appliances, you need to clean your kitchen faucet regularly. Cleaning prevents the accumulation of dirt, oils and other sediments from the utensils.
However, the cleaning process should not consume an entire hour. A few wipes with a cloth or sponge should be enough to clean it.
Also, the best kitchen faucet doesn't develop stains that require special cleaners. In addition, fingerprints should not stick.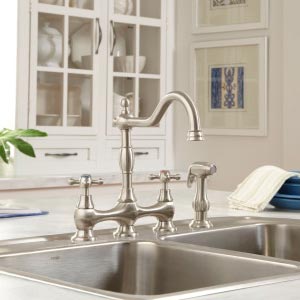 New Faucet, New Sink, or New Kitchen?
The first thing you'll want to figure out is the mount-type you need (or want): sink deck, countertop, or wall. This depends on whether or not the sink is going to be new as well – a new sink gives you more freedom to choose where the faucet goes (especially if it's part of a wider remodel or new build).
For a New Sink
If the faucet is for a new sink (and won't be mounted on the wall), hold off on the sink until you find the faucet you want. Why? With most sinks, you can specify the number and location of holes on the sink deck – leaving you free to pick nearly any (deck-mounted) faucet you see. Purchase the sink too soon, and you're stuck with the configuration originally selected.
Look out! Some sink materials allow for extra holes to be drilled at home, and may even come with scored knockouts to make the process easy. But due to the risk of cracking and damage – particularly with fireclay, cast iron and natural stone sinks – creating your own holes should be avoided if possible.
Likewise, faucets being installed in a new countertop should also be decided upon before finalizing the counter installation to make sure holes are drilled where they're needed (some countertops can be difficult to modify on your own).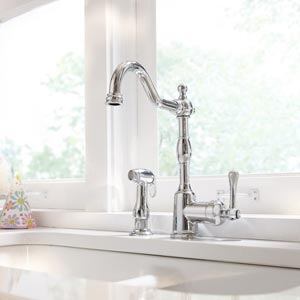 How to Measure the Faucet Hole Size?
The best way to measure the inside diameter of the faucet hole is to use a Slide Caliper. The measuring accuracy for this type of tool ranges from +/- 0.001″ to +/- 0.0015″ (+/- 0.02 mm to +/- 0.04 mm). Thus, using this tool to measure faucet holes would yield in accurate results.
Place the inside jaw of the caliper against the inside of the faucet hole.
Slide the scale outward until it reaches the maximum distance.
Slide the caliper out and the reading indicated would be the size of the faucet hole in diameter.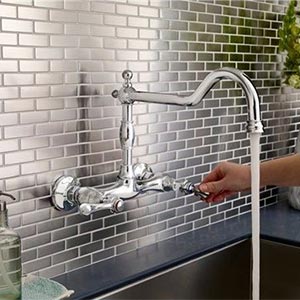 Repair or Replace Faucet?
Many times, the decision to replace faucets is an aesthetic one. When remodeling a bathroom or kitchen, it's important to match the sink, shower, and tub sets to the rest of the design.
In addition to taste and style concerns, there are also plenty of practical reasons to replace your faucet as well.
Cracked, discolored, chipped, or otherwise damaged
Worn out or corroded parts, making repairs difficult or impossible
Replacing things like washers, aerators, nuts and bolts doesn't fix the problem
Faucet repairs are over 30% of the cost for full replacement
Replacing a sink, tub, or shower
Ugly and outdated (aesthetic reasons)
If you are replacing a sink, tub, or shower, it's a good idea to replace the fixture as well. Replacing a faucet, however, does not necessitate a fixture replacement. You can add new faucets without having to replace any other plumbing parts.
Holes in a Sink
A three-hole sink is a common bathroom faucet hole size and is also a common type of kitchen sink. Faucets used on a three-hole sink usually have a plate or a base, called an escutcheon, which covers the holes. An escutcheon can also be used to cover the extra holes when installing a single-hole faucet in a three-hole sink.
A four-hole sink is the most common type of kitchen sink. It is similar to a three-hole design with an extra hole set a little further away for a sprayer or soap dish. A two-hole sink is designed for a single-hole faucet and a sprayer or soap dish with no escutcheon. A one-hole sink is used with a single-hole faucet, usually without an escutcheon.