How much does it cost to rewire a house?
Nationwide, rewiring a house costs between $1,500 to $10,000, but most homeowners pay an average of $2,100. These prices include the cost of labor and materials, and vary depending on the size and age of your home, the rooms being rewired, and the amount of wire that needs to be replaced.
Home rewiring involves removing the home's old wire and installing modern, non-metallic wire that's encased in plastic. Outdated wiring—especially knob-and-tube, in use from the 1880s to the 1940s, or aluminum wiring, used in many homes built between 1965 and 1972—can't handle modern electrical needs and appliances. Worse, they can be a fire hazard.
Given the dangers of outdated wiring, it's not an upgrade you should put off. The U.S. Fire Administration reported in 2017 that more than 26,000 house fires were caused by electrical problems. If your circuit breakers are tripping frequently, you detect a persistent electrical burning smell, or see charred or discolored outlets and switches, your house may need new wiring, pronto. Even if you don't see any of these signs, if your home is more than 25 years old, or you're doing a major remodel or room addition, updating your electrical wiring may be necessary.
Rewiring an entire house is a substantial but, mercifully, once-in-a-lifetime expense. Before you hire an electrician, have your home inspected to determine if you need to overhaul your electrical wiring system. Then, use this guide to get an estimate on how much it will cost to update your wiring.
How much does it cost to hire an electrician to rewire your home?
On average, residential electrical wiring installation costs $2 to $4 per square foot, including labor and materials. Most homeowners pay $2.75 per square foot of home space. Electricians charge $50 to $100 an hour on average nationwide, and when pricing a rewiring job, they usually charge one hour of labor per 100 square feet of wire. You'll pay additional labor charges to update an electrical switchboard or panel, or add outlets and switches.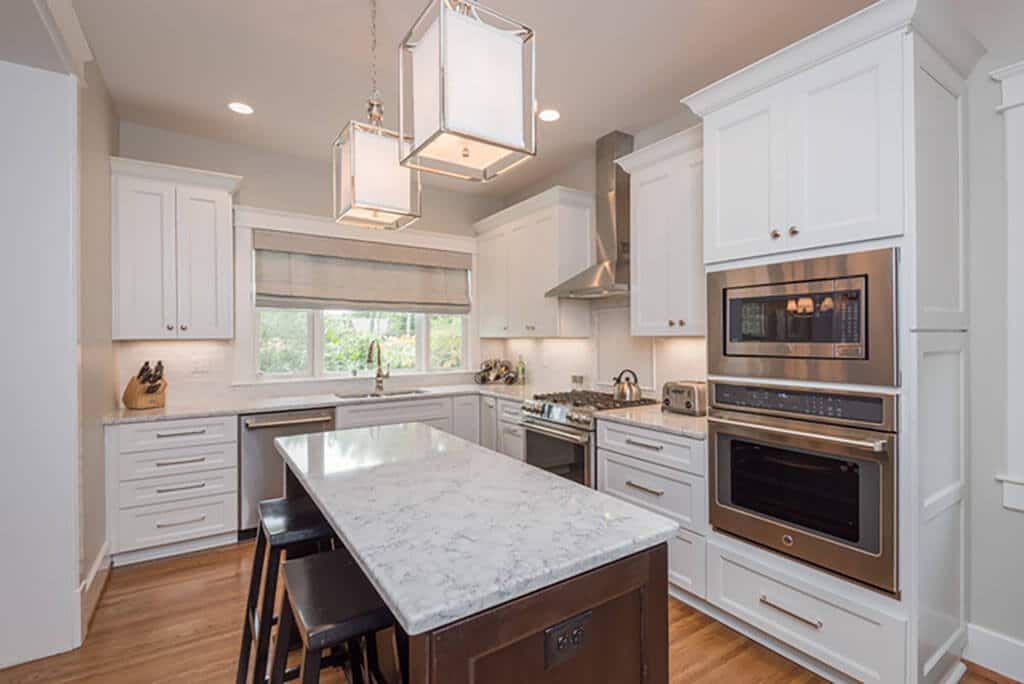 Electrical Considerations for Your Kitchen Remodel Project
Many components go into a major kitchen remodel project. As you undertake the planning phase, some decisions you make will affect how your contractors wire your kitchen. Electrical work is very important to how your new kitchen will function. Below are some considerations to keep in mind.
Electrical Circuits
With some older homes, you have to upgrade your circuit system because the original plan obviously didn't take into account modern appliances. However, even in a newer home you may need added electrical circuits. Generally speaking, you need a minimum of seven circuits in the kitchen — typically one for each appliance with a motor.
The two biggest appliances in your kitchen that need their own circuits are the electric range and the refrigerator. In fact, an electric range requires its own range outlet with a 240-volt circuit and receptacle. The next appliance with big energy needs is the microwave. In some instances, you can wire a microwave and garbage disposal on the same circuit, but it's better to use two.
Kitchen Rewire
Another specialized consideration for older homes is the necessity to rewire your kitchen. As noted, older homes weren't wired for modern appliances, so their circuit breakers might not be set up to handle the load. You may even have a fuse box instead of a circuit breaker. The electricians may have to rewire your kitchen to make the electricity safe.
Electrical Outlets
A big factor for you is the location of the electrical outlets. Code requires an outlet at least every six feet, but four feet is better for the kitchen. Your first consideration will be where the big appliances will go. The electric range and refrigerator need special outlets that are only for their use.
Maximum Value Mechanical Projects: Electrical
Electrical projects cover a vast array of residential systems. From ceiling fans to chandeliers, garage doors to doorbells, electricity is one of the most obvious necessities in the home.
In any case, it's important to note that electrical projects are more about safety than luxury or convenience, so whether you plan on adding a ceiling fan to the bonus room or an outdoor living area complete with surround sound and a kitchen, make sure you understand the importance of working with the pros so that nothing goes "hay-wire!"
Function trumps decoration. The housing market has begun to see functional fixtures replacing the large and elaborate trends of the recent past. Sleek and practical is the new grand and decorative — which is good news to the lower and mid-range housing markets — where keeping up with the Joneses of yesteryear now means energy efficiency and aesthetics can come at almost any price point.
BIGGEST MISTAKE
Electrical systems — behind the scenes — are very complicated, so it's important to have an electrician tackle the bigger stuff — like a full-on electrical remodeling project. By working with a pro to consider the location, amperage, ease of access and fixtures before starting a remodel, you can spare yourself a lot of grief.
EXPERT TIPS
On a Budget/ Mid-Range: If you are looking to make some electrical upgrades in order to keep up with the competitive housing market and further the livability of your home, it's smart to replace old fixtures and appliances with newer, more efficient models. By getting rid of old fuse boxes, plugs, switches and lighting fixtures, a vast improvement in aesthetics and function can bring big returns.
High-End: Trending in the high-end housing market is the need for larger electrical services. Because these homes are now seeing a rise in features like media rooms, outdoor living areas and other spots that generally demand more electricity, the units are seeing a big boost in service.
RESIDENTIAL RENOVATION
Home renovation electrical wiring can be a nerve-racking experience. Often times, you don't even know where to begin As you may be learning, there's much to think about when deciding on your renovation needs. Do you want to finally swap out the harsh florescent lights in your kitchen with new fixtures? Do you need to wire for a Jacuzzi in your bathroom? Do you want a ceiling fan in your bedroom to help you sleep better? Need to make sure your home passes electrical inspection? These are but a fraction of the questions you'll need to answer, and we're happy to be your trusted electrical contracting partner.
Kitchen Remodel Wiring
Your kitchen is where everything happens. You don't simply cook and share meals there – it's where you and your family meet to live your lives. Naturally during your home renovation, you want the room to be inviting and warm
Home Renovation Electrical for Bathroom Remodeling
Renovating bathrooms can be tricky. Everybody in your family, most likely, will have different opinions on what should be done, and prioritizing can be a challenge. will partner with you to determine what the most realistic options for your bathrooms are and how to make them a reality.
Bedroom Remodeling Electrical
We don't need to tell you the value of a properly wired bedroom. Whether you need an entirely new lighting system, new smoke and carbon monoxide detectors, a new ceiling fan, or anything else to make your bedroom safer and more comfortable
Electric Difference
provides you with the added peace of mind that comes with hiring a local contractor who knows the area better than the competition because we live here. Our remodeling projects stand out because we're your neighbors
Renovations & Remodel
Renovations and remodeling are an extremely specialized field. It takes a very talented and experienced technician to work within an existing structure. has an entire remodel/renovation team dedicated to these special projects ensuring that they are done correctly and on time.
By working closely with both the general contractor and the homeowner, our team can make the process as painless and as customized as possible.
Panel/Service Changes
Need to upgrade or replace your panel or make a service change? Electric knows how to make sure that the change and/or upgrade is as seamless as possible.
Basement Finishes
Finishing your basement can be a long process. The Electric electricians have extensive experience refinishing basements and making them living spaces.
Kitchen and Bath Remodels
Making your bathroom and kitchen more accessible and functional can make a whole house work more efficiently. The Electric team will work with you to make your home exactly what you want it to be
Room Additions
When you add on a new room to a house, the electrical work can be complex. Thanks to our experience, Electric knows how to install all of the electric for a new room addition.