HOW TO CHOOSE THE RIGHT ROOFING MATERIALS FOR YOUR BUSINESS
Commercial and industrial property owners and managers need to choose their roofing materials thoughtfully. Installation of a compatible roofing system will last for years and possibly save hundreds, if not thousands of dollars annually. Roofing materials can drastically reduce energy costs and once installed correctly, require very little maintenance. If you're investing in a new commercial roof, do your due diligence to learn more about the products offered and how they might benefit your property
WHY CHOOSE CERTAINTEED
By choosing CertainTeed, you're investing in sustainability. They have many products that come with an Environmental Product Declarations, Health Product Declarations, or are LEED compliant
EPDM ROOFING
EPDM roofing characteristically has flexibility and adaptability to high and low temperatures. It can be implemented on low-slope commercial roofs. EPDM is constructed from a black rubber membrane that has a reputation for being one of the longest lasting in the industry. It's made with an elastomeric compound roofing material manufactured from ingredients to withstand high levels of ozone
WHY CHOOSE EPDM ROOFING
You have a few installation choices with EPDM: ballasted, fully adhered, or mechanically attached. Overall, EPDM displays excellent performance characteristics and has a long lifespan when you conduct routine maintenance inspections. Many typical repairs are pretty straightforward to perform, meaning the cost for upkeep won't break the bank. EPDM also comes with warranties giving property owners that extra bit of security.
TPO ROOFING
TPO was developed to help industrial property owners install energy efficient roofing systems that don't negatively impact the environment. TPO or thermoplastic polyolefin single-ply roofing membranes use a unique technology to add strength and durability to construction. Just how durable are TPO roofs? On average, they are three to four times stronger than rubber. TPO roofs can be installed fully-adhered, mechanically-attached or ballasted.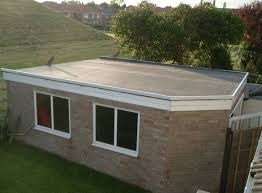 Things to consider when choosing your flat roof
Once you have decided that a flat roof is the way to go, there are still things to consider, such as the type of flat roof you want, materials and the roof coverings. So what are the essentials that you need to know? There are varying types of flat roof systems that are commonly used in the UK. So it would be a good idea to get a detailed understanding of these types of roofs, and which would be the best fit for your project
Single ply
Single ply roofing membranes are increasingly popular in UK construction projects, both for new build and refurbishment. Single ply roofs are popular for projects where cost is a big factor, as they have a low capital cost and cost in use, are lightweight, flexible and swift to install. Single ply roof systems provide strength, flexibility, and long-lasting durability. Single ply roofs are also an ideal surface for PC systems and green roofs.
Hot melt roofing
Many prestigious buildings in the UK have used a hot melt system, utilising its numerous benefits which include excellent life expectancy, extreme high performance and competitive installed costs. On a hot melt roof the waterproof membrane is applied as a hot liquid directly to a prepared structural deck. This creates a completely seamless monolithic layer that is extremely difficult to damage and has a very long life expectancy. One important point to make about this system is that the installation involves potentially dangerous hot works, so health and safety issues need to be taken into account.
Liquid roofs
Occasionally, complex roof shapes require something a little different and paint-on solutions can be used effectively where other methods struggle. Cold liquids are especially popular on refurbishment or repair projects as the liquid can usually be applied directly to the existing roof makeup, making it very cost effective. Due to its flexibility, liquid roofs are being specified frequently on new build projects, with their ability to easily be installed in restricted spaces.
Asphalt roof
Asphalt can be laid on most rigid structures such as concrete, timber and metal and can be worked around all sorts of details like curves, upstands, slopes and roof lights. Asphalt is applied hot, usually in two coats onto a felt membrane which isolates it from the roof. It is finished with small white chips to reduce solar radiation which can soften the asphalt. Asphalt has been around for a fair old time but todays asphalt contains modern polymer formulations making it even better. Polymer-modified mastic asphalts, usually containing styrene butadiene styrene block copolymers, provide enhanced flexibility and a reduced susceptibility to the effects of temperature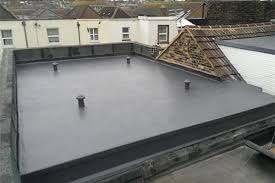 HOW TO CHOOSE THE BEST MATERIAL FOR A FLAT ROOF
Covering a flat roof will be different from a traditional sloped roof for many reasons including the materials required. While a pitched roof can use overlapping shingles or tiles, this method is likely to lead to leaking for a roof without any slope. There are many different materials and methods to installing a flat roof, including rubber, thermoplastic, tar and gravel and modified bitumen, but which one is best?
Rubber membranes such as EPDM (ethylene propylene diene terpolymer) are often applied in giant custom sized sheets to fit your flat roof. This material is durable, and the custom size limits the areas where a leak could occur. This kind of rubber can be more expensive than other materials.
Thermoplastic materials such as PVC (polyvinyl chloride) or TPO (thermoplastic olefin) are durable options, due to heat-welded seams, and offer improved energy efficiency. However, roofs made of these materials can be difficult to repair.
Tar and gravel are used in the Built-Up Roof (BUR) method. While this is typically a cheaper way to cover a roof, it can be heavy and messy to install and is usually accompanied by a strong odor. If you get a leak in this kind of roof, it may be hard to detect where it started.
Using modified bitumen on a flat roof can help save on costs as compared to newer technologies. The installation process can be very time-consuming and labor-intensive due to the number of layers and roll-on method of installation. It can also be difficult to detect the origin of leaks in a modified bitumen roof.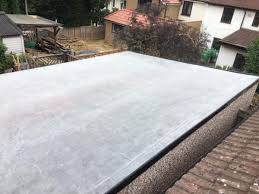 A Design & Materials Guide for Residential Flat Roofing Systems
Flat Roofs Are Everywhere – But What About Homes?
Flat roofs are a familiar sight throughout North America. Any typical mall, warehouse, apartment building or school usually features a flat roof. This roof type is easier to install over large surfaces and is the most common choice for commercial, industrial and institutional buildings.
From the start, you'll likely have questions, including: is a flat roof the right choice for a home? Is it more expensive that a steeper pitched alternative? Is it harder to install? What about ongoing maintenance? Whether choosing a roof design for a new home, or replacing/repairing a current flat roof, IKO Industries offers much of the information needed to make informed decisions for a lasting, sturdy cover for your investment.
Why Are Flat Roofs Less Common For Houses?
Also known as low slope roofs, flat roofs are less common in North American residential construction because the low slope of a flat roof has an increased tendency to collect water rather than shed, like its more steeply pitched alternative. This may make it less ideal for rainy or snowy climates.
Flat Roof Drain Types
So, even though flat roofs are ideal for drier landscapes, in climates with heavy precipitation, a properly installed flat roof can be a fine choice for a homeowner – especially thanks to ever-improving waterproof materials and installation techniques.
It looks good
Flat roofs are an attractive aesthetic choice that give homes a unique form. If you love the landscape or cityscape around your home, a flat roof can help complement that without obscuring the view
WHAT MAKES A GOOD FLAT ROOF?
Once associated with poor materials and shoddy workmanship, flat roofs are now back in vogue and are highly favoured amongst designers and architects. With extended life-spans, ease of maintenance, and proven resistance to the fluctuation of the British weather, together with high performance and cost effectiveness, a flat roof can offer a real alternative to a pitched roof. When installed and maintained correctly, a flat roof can ​have a long life expectancy. But what actually makes a good flat roof?
Membrane: A good membrane is key. Whilst their primary purpose is to waterproof the roof area, they typically allow water to run off from a slight inclination or camber into a gutter system. Choose from Reinforced Bituminous Membranes (RBM), Liquid Waterproofing and GRP Roofing Systems, EPDM or Single Ply and Paints and Solutions.
End use: This must always be taken into account as the weight of a mastic asphalte membrane or planters could cause deflection. It is also an important factor when considering installing solar panels.
Suitable deck: The roof deck is the foundation or base upon which the entire flat roof is dependent. It must be designed to provide sufficient support for all loads to which it will be exposed, and the method of attachment to it must be appropriate.
Adequate falls: A flat roof needs to be able to clear surface water as rapidly as possible. The required falls may be formed by the slope of the joists. If not, then cut to falls insulation may be needed. Falls in the structure can be achieved by adjusting the height of the supporting beams or purlins, by using tapered supports, or by the addition of firring pieces before the deck is laid.