How Can I Control An Ant Infestation?
Your first step to battling an ant infestation in your home is to identify the species that's giving you trouble. Since different species have different habits and preferences, they may also require specific methods to control them. If you're not sure which species is plaguing you, here are a few basic tips to get you started:
Seal – Ants are extremely adept at locating even the smallest cracks and crevices in walls, windows and foundations to enter your home to forage. Seal any potential points of entry you can find using caulk and other appropriate materials. You probably won't be able to find them all, but it's a good start.
Clean – After sealing all of the entry points you can find, it's important to clean around them. Ants leave an invisible trail containing pheromones so other ants can follow it to the resource they've discovered. Scrub around ant entrances with soap and water to wash away these trails. In addition, clean up messes you make in the kitchen to prevent attracting them again.
Remove – Attractants such as sugar, grease and other foods are one of the main reasons ants enter your home. Remove potential lures by keeping food in sealed containers. Pet food should also be sealed and not left out where ants can easily access it. Also, take out trash regularly to prevent the smell from drawing ants in as the garbage breaks down.
Dehydrate – Ants need moisture to survive, so you'll want to minimize their access to it using a few simple tricks. First, fix any leaks you may have around pipes and other areas. Then, check your gutters and spouts to make sure they're draining away from the house. Finally, try implementing a dehumidifier to reduce other moisture inside your home.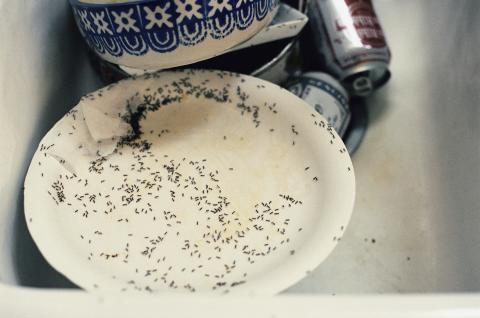 Common Reasons For An Ant Invasion
Ant invasions don't come out of nowhere. There are usually triggers that lead to an ant invasion. The following are some of the reasons that ants may invade.
Causes of Ants
Sugar, Crumbs, and Uncovered Food
The most common reason that ants invade is because they have found access to sugars and uncovered foods. Ants send scavengers all around your home to try to find some sign of food. When they do, they go back to their nest, send a message to other workers, and suddenly swarms of these ants will come into your house to pick up food for the rest of their colony.
Spilled crumbs, uncovered foods, and more are all very common causes of ant invasions, and unfortunately no matter how much you clean it may be hard to completely control for all uncovered food items.
Dog Food
It's not always your food either. Dog food can also lead to ant invasions, because the food is often sitting outside for extended periods of time. While many people control for their own food, they often forget about pet food and the way that pet food is often sitting in the same spot out in the open. Dog food, cat food, and any form of animal food can be a common source of ant invasions.
Nearby Nest/Openings
In some cases, the problem may not be with what's around your house. The problem may simply be that you have ant colonies too close to your home and too many holes and openings on your property. You'll need to have someone inspect the property thoroughly to find nearby colonies, eradicate them, and then seal the holes that they're entering from.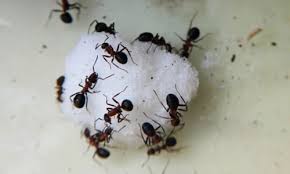 There's always a source.
Unless you see just a handful of ants foraging for food — randomly milling around your countertops — they're generally going somewhere, and coming from somewhere. Instead of swiping them up, take your time to follow the train in both directions. Most likely, you'll be able to find their food source — whether it's a juice spill or a dirty spoon in the dishwasher — and where they're getting in, too. Typically if you clean up the spill, the ants will go away on their own (until next time). And while you can try to seal up their entry points, it's sort of a losing battle: Ants can get in just about any crack or crevice — we're talking about pinholes here — so they'll be coming through holes in your screens, or cracks along the baseboard.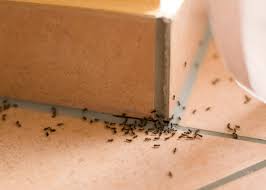 Ants Follow The Scents Of Other Ants
Another reason why ants are infesting your home even if it is spic and span is that they may have picked up a scent that has attracted them. The scent could be the sweet scent of sugar or candy, the scent of other ants and even their own scent if their colony has previously invaded your home.
Perhaps these new ants were triggered by a collective memory of their colony which indicated that your bedroom or kitchen is where they can find food. No amount of ant spray can prevent them from invading your home if this is the case.
The reason is that members of this colony have been pre-programmed to scout your home for food regularly. In that case, this colony will send out scouts at regular intervals. The best way to prevent them is to eliminate the entire colony so that there will be no collective memory left.
There are times when ants pick up the scent trail of other ants which have previously infested your home. Perhaps the ants invading your home now have just followed this previous trail. When they can't find food at the end of the trail, they will wander around your home to find it.
Want to guard your fortress from a colony of ants? Try these outdoor preventative measures:
Use crushed stone or rock around your house rather than mulch or pine straw — ants love to nest under garden bed mulch — and keep a mulch-free zone under the perimeter of the house
Fix leaking water pipes and maintain proper drainage of water away from your home (clean gutters and landscape drainage systems)
Seal cracks and crevices around your house with a silicone-based caulk
Replace weather-stripping and repair loose mortar around basement foundation and windows
Keep trees and shrubbery trimmed away from the exterior of your house
Keep firewood stacked at least 20 feet away from the house — ants and other pests love it!
Routinely check under sinks for areas of moisture and repair any leaky pipes
If you're too late and ants have already started making themselves comfortable, grab some household cleaner and wash down the surfaces where you've seen them crawling.