How to Choose a Roof Color: Seven Things to Consider
Getting a new roof is so exciting! It's a chance to completely revamp the look of your home. But it's also a scary decision because you will live with your choice for a long time. Where do you start? Here are seven things to consider before making that final decision.
The climate you in which you live. The color of your shingles can affect the temperature of your attic by 20 to 40 degrees! This can make a big difference in the heating or cooling cost of your home. Light shingles deflect sunlight and help keep temperatures down in hotter climates, while dark shingles absorb heat and help homes stay warm in colder climates. Dark shingles also help snow and ice on your roof melt faster.
Your architectural style and colors of your home should be kept in mind. Dark colors make a home look smaller and light colors make a home look larger.
Whether or not to "make a statement" and pick an unusual color combination with your home or if you want to be more traditional
Neighborhood considerations such as homeowner's association and subdivision rules and covenants. It's also nice if your roof doesn't exactly match or clash with your nearby neighbor's roof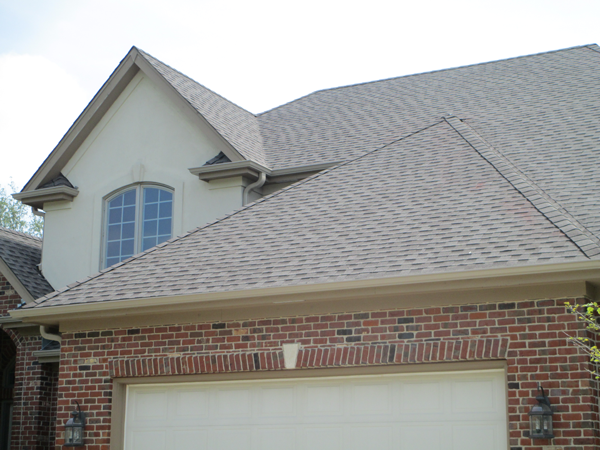 Choosing the Best Roofing Shingles for Your Home
A comprehensive guide to roofing shingle types.
Most Homeowners know how important it is to protect their home with a great roofing system. Choosing the correct roofing shingles to protect it however, can be a tricky and overwhelming decision. While your roofing contractor can certainly help and advise with this choice, its always best if the homeowner takes the time to fully understand their options and make an informed decision. In the text below, we've laid out all the information you need to decide on the best shingle type for your home.
Asphalt shingles are the most commonly used residential roofing material today, and over the years there have been many improvements to further increase both their aesthetics and reliability.
Traditional Three-Tab Roofing Shingles
Three-tab is the most economical type of asphalt shingle. This shingle type can be recognized by the tabbed "cut-outs" along the bottom edge of the shingle that cause them to look like three separate shingles once installed. The idea with the three tabbed approach is to create a nicely textured roof while maintaining ease of installation and manufacturing, thus lowering cost. This means they generally have the lowest price tag of all the roofing shingle types. The downside to three-tab shingles is that they are more susceptible to being damaged by wind, heavy precipitation, or hail. They also tend to not look as good as their architectural cousins.
Architectural Roofing Shingles
Architectural shingles are an improvement on the three-tabbed approach. Good architectural shingles, like GAF Timberline HD architectural shingles, cost a little more but have a higher wind and hail rating than three-tab shingles. Architectural shingles also have additional layers of asphalt laminated together, and are installed in single solid pieces (without cut-outs).
Designer Roofing Shingles
The most high-end option when it comes to Asphalt shingles, are designer shingles. Designer shingles are technically still architectural shingles, but they have the added appeal of mimicking traditional roofing types such as slate, tile, or wood shake. While designer shingles may look like these other roofing types, they are still much more affordable and typically more reliable.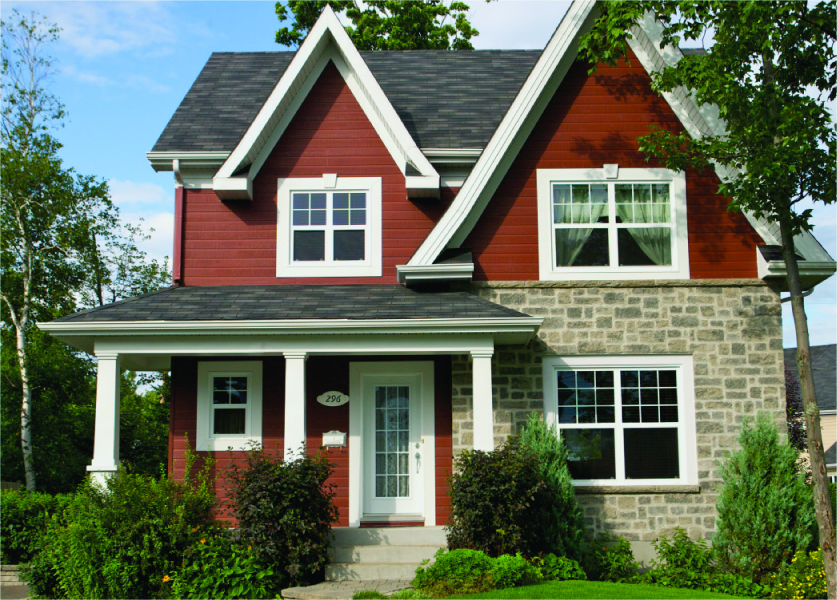 How to Pick Asphalt Shingles for Your Home
But of all these material types, the overwhelmingly most popular, versatile, simple to install and cost-effective choice is the asphalt shingle roof.
First used in 1901, asphalt shingles have been part of the American home landscape for over a century. These shingles are durable for the price, affordable and come in many different textures and colors. The most common styles of asphalt shingles are the "strip" shingle or the "laminated" shingle
Although fairly durable, asphalt shingles are still subject to damage and your roof should be checked after major hail or wind storms. Additionally, you should always make sure that your roof is properly ventilated.
According to a 2007 study by IWCS, about 11 million tons of asphalt shingle waste is generated annually in the US. Shingle waste comes mostly from new or replacement roof installations which can cost several thousands of dollars according to HomeAdvisor.
Types of Asphalt Shingle Construction
The most common type of asphalt shingle homeowners will have installed are either fiberglass shingles or organic mat-based shingles. The shingle will have either an asphalt saturated organic substrate made from cellulose fibers like wood or paper, or it can have a fiberglass based substrate or mat.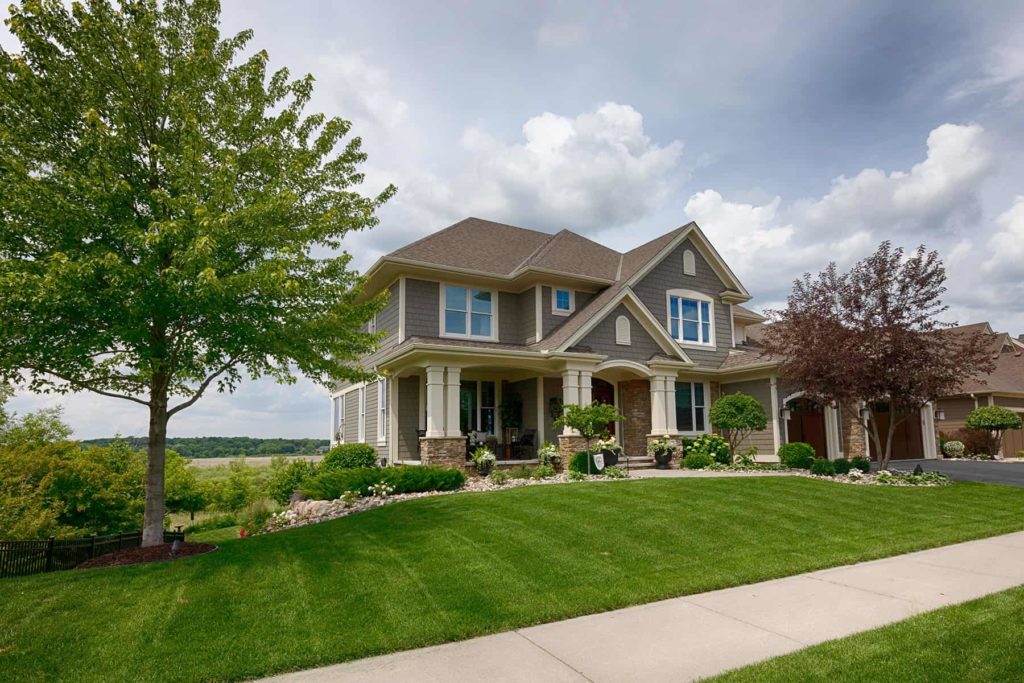 Design a look you'll love.
This is going to be a beautiful decision. Shopping for new shingles is the perfect opportunity to increase the curb appeal of your entire home. Your roof can make up more than half of your home's exterior so it should complement your home's style and exterior colour scheme.
Should you choose a different colour? Consider the look of your home's exterior. A new shingle colour could bring your look together. Or even inspire a new palette.
Have you seen the granules? Owens Corning shingles get their rich colour from a combination of coloured granules. Using the colours of these granules, you can coordinate all of your home's exterior elements – the paint, siding, brick or stone. Click here to see the impact that TruDefinition® Duration® Series Shingles Designer Colours™ Collection can make on your home's aesthetics and perceived value.
Do you need more dimension? If your home's exterior is monochromatic, think about adding shingles that appear thicker and give your roof a rich, textured look. For homes that already have a detailed exterior, you could choose softer, more muted shingles. Owens Corning Roofing offers a variety of roofing shingles that carry a unique combination of these characteristics
Shingle colour isn't the only factor that affects the look of your house. The shingle style you choose also impacts curb appeal.
If you prefer a more consistent, smooth look to your roof, your best bet is the Supreme™ three-tab shingles. Berkshire® Collection, Oakridge® and TruDefinition® Duration® Series dimensional shingles add more visual interest to your roof by giving it a three-dimensional appearance.
Proper planning and knowing what you want can head off a lot of potential problems and delays – whether you need a new roof or just some repairs. Let's look at common considerations in new roof projects and significant roof repair.
DETERMINING THE RIGHT SHINGLE COLOR AND MATERIALS FOR YOUR ROOF
What type, style, and color of roof that you choose might be one of the biggest decisions that you'll make about your property.
Choosing the right type of roofing material, the right shingle color, and everything else about your roof is a big decision that will affect not only the appearance of your home, but maintenance costs and the overall value of the property.
You want the color and material of your roof to blend in seamlessly with your natural surroundings, your neighborhood, and most importantly the architecture of your home.
Your home's roof should enhance the curb appeal and value of your property as well as express your aesthetic and personality.
The roof makes up about 40% of the visible exterior of your home depending on the style of the house, so choosing the right shingle colors and roofing materials means that when you make your choice you are also deciding on the type of first impression you want to make with your home, and even bigger decisions like the resale value of the property.